Welcome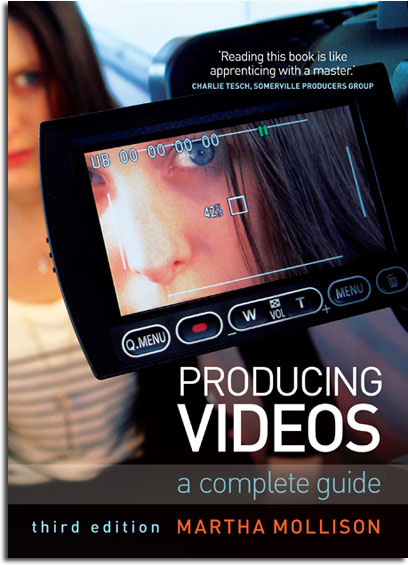 This website has been designed to support Producing Videos 3rd edition by Martha Mollison, ISBN: 9781742370569.
Producing Videos has been called the 'bible' of video making. A bestseller over many years, it offers a comprehensive and user friendly guide to all aspects of video production - from the first chapter on using a camera (if it doesn't go in easily, don't force it) to the chapter on distribution (no matter what happens, always hold onto your master).
All the elements of video production are covered: camera operation; scriptwriting; composition; budgeting; preproduction planning; lighting and sound recording; interview techniques; field production and studio shoots; digital editing; digital postproduction techniques; video streaming and other forms of online distribution.
This edition has been fully revised and updated to cover developments in technology, promotion and distribution. It includes tips from over 120 experienced video teachers from around the world, and is illustrated with over 600 photographs and 200 diagrams.
Producing Videos is the best handbook available for learning the basics of video making. It is an ideal guide for students, and for anyone who has a flip camera burning a hole in their pocket and aspirations to become the next hot new director.
'Whether you are a beginner or veteran filmmaker, Martha Mollison's Producing Videos serves as a comprehensive guide to all aspects of video production.' - Greg Walters, Portland Community College
'An invaluable resource for developing my students' video journalism skills.' - Kay Nankervis, Charles Sturt University
'This is one of the best soup to nuts guides for producing a video I have ever seen. It will become a text book/reference guide for the Public Access Studio I work with. Every last detail is covered in this book. My thanks to the author and all the contributors.' - Paul Clover, Television Director
About the author:
Martha Mollison has been a freelance video producer for over twenty-five years and has taught both in Australia and the US in universities, colleges, cable TV stations and community organisations. She is currently based in Portland, Oregon, USA.
Book details:
ISBN: 9781742370569
RRP: AUD$49.99
Format: Paperback 240mm x 172mm
Extent: 576pp
Publication date: May 2010
Ebook details:
eISBN: 9781742690230
Format: PDF ebook only
Available from: Google Play Books, eBooks.com, Booku.com, Read Without Paper
Please note: the complex internal layout of Producing Videos means we can make it available as a PDF ebook only. It is not available from Kindle, Kobo, the iBookstore, or from any ebook vendors which only supply ebooks as epub format files. This also means that the ebook can only be read on a tablet, laptop or desktop computer.
To give feedback on this website, or to request an inspection copy of the book, please email academic@allenandunwin.com.